Hericium erinaceus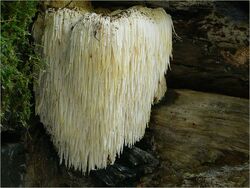 Substrates:
hardwoods
Synonyms

Lion's mane
Hydnum erinaceum
Hericium erinaceum
Bearded tooth
Hedgehog
Bearded hedgehog
Pom pom

Scientific Classification
Kindom:
Fungi
Phylum:
Basidiomycota
Class:
Agaricomycetes
Order:
Russulales
Family:
Hericiaceae
Genus:
Hericium
Species:
Erinaceus
Hericium erinaceus is one of the few mushrooms imparting the flavor of lobster when cooked. Producing a mane of cascading white spines, this mushroom can be grown on sterilized sawdust/bran or via the traditional log method first established for Lentinula edodes (Shiitake).
Characteristics
Edit
Cultivation
Edit
Parameters
Edit
Substrates
Edit
Hericium erinaceus fruits well on supplemented sawdust, particularly Douglas fir.
Natural Habitat
Edit
References
Edit
Ad blocker interference detected!
Wikia is a free-to-use site that makes money from advertising. We have a modified experience for viewers using ad blockers

Wikia is not accessible if you've made further modifications. Remove the custom ad blocker rule(s) and the page will load as expected.