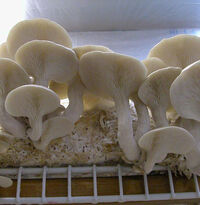 Pleurotus ostreatus, the pearl oyster mushroom, is a common mushroom prized for its edibility. Long cultivated in Asia, it is now cultivated around the world for food. It is related to the similarly cultivated "king oyster mushroom". Oyster mushrooms can also be used industrially for mycoremediation(pollution negation) purposes.
Ad blocker interference detected!
Wikia is a free-to-use site that makes money from advertising. We have a modified experience for viewers using ad blockers

Wikia is not accessible if you've made further modifications. Remove the custom ad blocker rule(s) and the page will load as expected.